Patrick Mahomes II 2016-17 Select XRC Silver Prizm RC #2 BGS 9.5
Patrick Lavon Mahomes II was born on September 17, 1995 in Tyler, Texas. Mahomes played for Texas Tech University for three seasons from 2014 to 2016. He was drafted by the Kansas City Chiefs in the 2017 NFL Draft as the 10th overall pick.
In 2018, during his second season in the NFL, Mahomes started in 16 games as the quarterback for the Chiefs. He had a completion rating of 66%, passed for 5,097 yards, and scored 50 touchdowns. He led the Chiefs to a 12-4 record that year and was selected to the Pro Bowl, First Team All-Pro and named 2018 NFL MVP.
In 2019, during his third season, he led the Chiefs to the Super Bowl and won both the 2019 Super Bowl and Super Bowl MVP. In the 2020 season, Mahomes led the Chiefs back to the Super Bowl, falling only to Tom Brady and the Tampa Bay Buccaneers.
This asset is a Patrick Mahomes II 2016-17 Select XRC Silver Prizm RC #2 card. It is in Gem Mint condition and rated 9.5 by BGS. A trading card with a grading of 9.5 by BGS was sold this year for $9,200. At the time of publication, this BGS 9.5 graded card is currently on auction for only $6,500! This is well below BK's target price of $7,500 for this card.
Don't miss out on this profitable investment opportunity!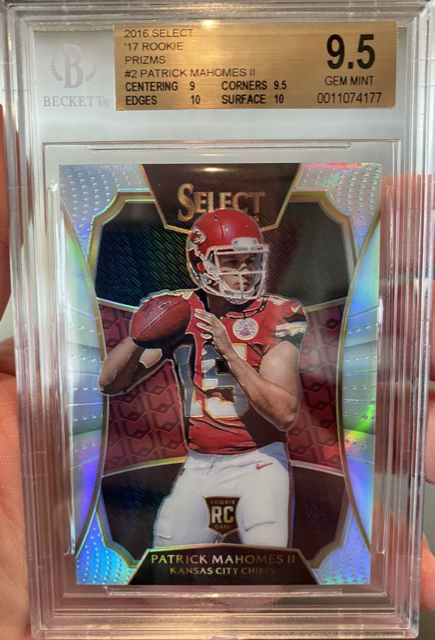 Want alerts when a new PRIVY asset is released?